Although this contest was supposed to have a prize, I apologize because I underestimated our financial situation. Not to say we're bad off but just not comfortable quite yet.
ANYWAY, I'm still going to hold the

contest

and the winner will receive....
the knowledge of winning!
Big A & I are having a hard time coming up with a
b
oy name
for this new baby. Now, we don't know for sure Baby 2 is a boy, but we have a girl name picked out.
If this baby comes out with more estrogen than testosterone,
she will be Evie (pronounced EV) Lynn (my middle name).
However, if this baby comes out with a pee-pee, we have only a vague idea of what to name him. Our choices so far: Isaac, Samuel, Charlie (EDIT: just Charlie, not Charles). Middle name for Isaac & Samuel would be Lee (same as Moose's, Big A's, my dad's, and Big A's dad's). However, Lee does not fit with Charlie. OR my husband's choice: Nacho. haha
Here is where you come in. Since we aren't stuck on any of the above male names, I am putting you in charge.
How to enter this contest (each cons
titutes an entry):
1. Leave a comment with your favorite boy name (first & middle preferably) OR a middle name suiting to the name Charlie.
How the winner will be chosen:
I am going to have Big A randomly pick a number (I don't know how to use the generator things, sorry).
I
can
not
commit to naming my child the name I like best out of your choices; I can't do that to Big A (sorry).
You have until the baby's born to enter
,
BUT
if you want even a possibility of us actually naming the kid your suggestion (given that it comes out with a pee-pee, of course), you probably want to enter ASAP.
Good luck (and thanks)!
----------------------------------------------------------------------------------------------------------------
Prompt 5: Show us something you made:
Although I stopped myself short of posting a picture of my son (because I did make him), I will show you the baby blanket I made.
Click
HERE
to see the original link to what I made!! I'm also in the midst of making another blanket that will hopefully be done by Saturday. I'll post pictures of it along with the party pictures maybe Sunday.
For more Writer's Workshop fun, check out Mama Kat's Losin' It.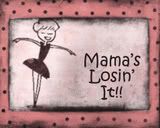 Also, my boy turned 2 yesterday (July 1). Be sure to click
here
to wish him a happy birthday. I'll post party pictures after this weekend.