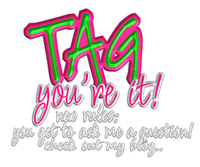 Angie over at
BLOOM
tagged me (isn't she a sweetie?)! So here are the rules:
1. Link your tagger and list these rules on your blog.
2. Share 7 facts about yourself on your blog, some random, some weird.
3. Tag 7 people at the end of your post by leaving their names as well as links to their blogs.
4. Let them know they are tagged by leaving a comment on their blog.
Seven Facts About Mrs. S:
1. I LOVE Star Wars! I think I posted about this once, but anyway. My dad used to work the night shift at a factory. When he would come home, I'd get up to greet him. Then I must not have wanted to go back to bed or something so he'd pop in our recorded version of Star Wars (oh the days of VHS). He'd lay down & fall asleep and I'd do just the same. I'm not sure when I first saw an entire episode/movie, but I do know they hold a special place in my heart.
2. I could eat popcorn for every meal and be very happy (and plump). Kettle korn and butter lovers are my favorite. As long as it's not burnt (or salt & pepper kind), I like it. Yummy...in fact, I'm eating some now!
3. I can almost fit back into my wedding dress. However, I'm not sure if it'll happen ever as my chest is bigger than it was 2 years ago BUT I'm still trying. I can zip it up to my bust line. *fingers crossed*
4. I was such a bookworm when I was younger that I took a book wherever my family went, even to the town 15 minutes away. SO....when I started to drive, I didn't know how to get anywhere! I'd never paid attention, my nose was always stuck in a book.
5. When I played softball, for a few seasons (we'll say when I was 16ish), I would paint my nails different colors for every game or tournament. My rule: they couldn't match our colors (red/white).
6. I have about 7 or so real life friends that read my blog. Only about 3 comment (thank you Laura, Ryan, and sometimes Shannon!).
7.
A League of Their Own
is my favorite movie of all time. Closely followed by:
Star Wars
(of course), The
Mighty Ducks
series,
Willow
(don't hate),
Labyrinth, Grease
,
Dirty Dancing
....and various others in no specific order. Oh and does anyone know where I can find a copy of Cry Baby?? (again, don't hate...it's nostalgic)
YOUR TURN!
1.
Honey Mommy
2.
Jenerbug
3.
Emma
4.
Buried with Children
5.
Maybe it's Just Me
6.
Shannon
7.
Apryl
Also, if I have previously tagged you....you're it too!