With Moose it seems when we have attacked one problem behavior (usually more embarrassing than harmful), another one comes along. So as soon as we seemed to have solved the hands down the pants ordeal (by wearing non-elastic waistband pants always), he began to chew on his collars.
Collar chewing is not problematic in that it harms anyone or anything...except the shirts! Those precious shirts that I'm saving for Squirt's hand-me-downs. I don't mind hand-me-downs (mostly) but I do mind nasty chewed up, twisted collars. With this comes hours of my time scouring Etsy and the internet for something to combat this with.
Etsy came to my rescue...my laundry's rescue...by showing me the
iPuke shop
. Yes, you read that correctly, iPuke. I'll let Sandy, the shop owner, explain for herself.
It just makes sense to go with the flow.
The birth of my daughter had been 15 years in waiting. All was perfect with the pregnancy and we came home after my C-section to a changed household. From the day my milk came in I knew something was wrong. Jadon's first year involved multiple hospital admissions as we battled severe GERD and it's complications. It was apparent that I had to quit working and be at home with her & the apnea monitor. Most reflux babies projectile vomit (hence the name iPuke) - while I was "lucky" not to have that problem, Jadon choked on her vomit and refused to let it out.

In addition to her struggles with GERD she has SPD and high functioning autism. This has augmented our shop as I learn tools to help her cope & then offer them for sale here.

Our past struggles with GERD will forever hold a tearful place in my heart - as an outlet for this I have refluxrebels.com my website to help other families know more about this condition. In an effort to help my site pay for itself, I decided to create iPuke on Etsy which has become a wonderful new addition.

My Mom has come alongside of me to help grow this unexpected child to whatever it's future holds. We have over 95 combined years of sewing experience and value quality. Custom orders are always welcome and one of a kind items are our specialty.
I can't imagine having other complications on top of autism. Most days autism is just what I can handle (with Christ!!). So I have a mother-heart-autism connection with Sandy. I emailed her about trying out one of her chewable necklaces. Most that I've seen online look SO girly! And when your son already has differences, you don't want a stand-out necklace to add to that. Let me just say it's important for me to have my children fit in to an extent so that they can build relationships with others and hopefully some day use those relationships to help others build relationships with Christ.
Anyway, I'd tried making a braided necklace for Moose about a month before and he wouldn't wear it unless forced. And when he did, he didn't really chew on it much. I could see the potential but needed the right necklace. Sandy sent us this red chewable necklace, just like this one pictured but without the wooden bead.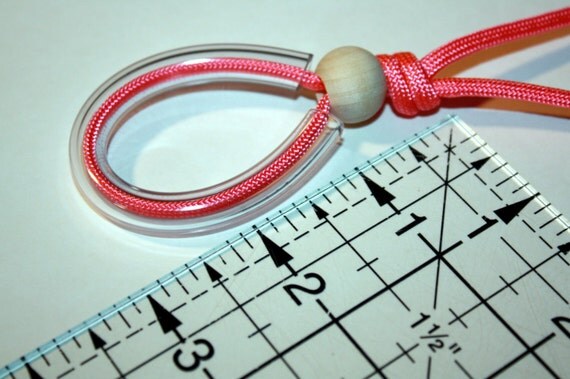 image from the iPuke Etsy shop
Moose wears it all the time. He's worn it to school - and never got into trouble with it (I told him if it became a distraction he would have to take it off). He doesn't wear it every day but if I see him biting his collar, I tell him to find it and he does. He happily chews on it, kind of like a baby or a dog, but it's helped the shirts out a TON! Even his brother has said he wants one of his own.
Disclaimer: I received this necklace for free in order to write an honest review. Others may or may not have the same experience(s) as I've had.