I'm in the midst of reading
Hope Runs
by Claire Diaz-Ortiz and Sammy Ikua Gachaqua. The book launches this week so I'm hurrying to be able to share my review this week! However, with the book launch comes all sorts of neat offers that I wanted to share with you.
I've copied all of this from Claire's website so please if you want to visit, do so
here
. Here are the details on the book launch incentives and goodies you can win!
And if you order this week you'll get not only $150 in freebies, but you'll also be entered to win over $1,000 in prizes. (Just keep reading…)
The book, as I've said, is not the book many folks expected me to write. It's not a book about business, productivity, or technology book. Not at all.
Hope Runs is a joint memoir with my Kenyan foster son, all about the strange journey we've taken together. From meeting him in his orphanage in 2006, to spending a year living in his orphanage and starting a non-profit organization, to ultimately bringing him to the United States five years ago, it's a joint story of our now-intertwined lives. It's a story we're proud of, and a story we hope you enjoy.
Here's a video overview:

We're excited for you to buy the book. So excited that we're offering a ton of freebies and a chance to win a bunch of great prizes.
Here's the deal:
We'll send you more than $150 in bonuses.
You'll also be entered to win over $1,000 in prizes.
Sweet, no?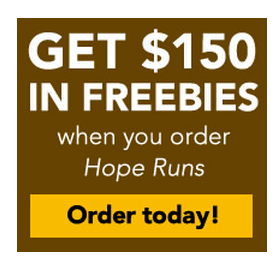 FREEBIES
Order now, and you'll get ALL of the following FREE bonuses:
A 50% discount to the Blog to Business online class.
A 50% off discount to the online class: Share to Sell.
A bunch of free ebooks by me and others (see the full list below).
FREE ebooks
The Present Principle: Seven Steps to Life in the Now
Lead by Morning: 365 Days of the Present Principle
How to Be Social: A Social Media Manifesto
How to Be a Morning Person
Simple Email Success: A Short Happy Guide to Email Mastery
How to Fundraise on Social Media
How to Set Up a Self-Hosted WordPress Blog: A Guide to Starting Your Own Blog in 9 Minutes or Less
How to Travel the World for Less than it Costs to Stay Home: Taking Your Life on the Road at a Price You Can Afford
How to Work Smarter, Not Harder: On Getting Out of the Grind and Getting More Done
Make Better Decisions: How to Think Less and Decide More
PRIZES
By purchasing you'll also be entering to win one of the following:
Four $100 Amazon gift cards
Ten $10 gift cards to Starbucks
1 $100 donation to Hope Runs in your name
Four free passes to the Twitter for Good online class
How can you get your bonuses and enter for the prizes?
Order Hope Runs at one of your favorite retailers. (See a full list of retailers here.)
Send the receipt to hoperunsbookreceipt (at) gmail.com and we'll respond with the information of how to get access to your bonuses. We'll then notify you via email next Tuesday, April 21, if you've won a prize!
So order the book! So far it's pretty awesome. In the foreward, it says this book is like a glimpse into a conversation. I agree. I'm enjoying learning about Sammy and Claire and can't wait to share all that I think of this.