Toast crumbs everywhere!
Broken lightbulb stretched across the floor!
Drips of lime juice leaking into the crisper.
Ladybugs/Japanese beetles crawling on the window.
Evidence of root beer floats clogging the sink.
Bits of egg fallen to the floor.
What do you call this?
A messy (dirty) kitchen?
I call this a blessing.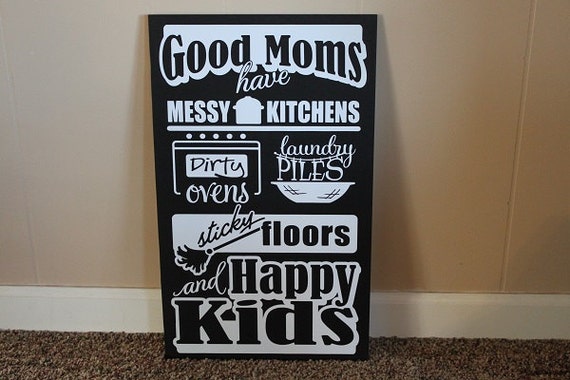 although I don't 100% agree with this sign, it's cute and you can find it on Etsy.
It occurred to me this morning as I wiped up the usual breakfast mess that this messy kitchen is a blessing. A blessing. A full-on, God-filled blessing.
Yes, I have dishes to do (and put away). I have meals to cook (and muffins - yay). I have mouths to wipe (not to mention bottoms...well, only one now). I have toys scattered everywhere! In a few minutes we will rush out the door for school and I will attempt to keep my patience (I hate being even close to late but it just always seems to happen).
But I have arms full of hugs. Lips full of kisses. A heart full of love. I have two sons who love me so much that at least one of them still wants to marry me. I am just thankful today for these two goofballs who drive me crazy and up the wall and make me bang my head against that wall because they are amazing. They are grace poured out. They show me endlessly what God's love is for me - unconditional, never wavering, always faithful.
As much as I'm called to be Christ to my children - to teach them and love them like He - they are the same back to me.
So as you look around you and see your life's messes, how can you think of them as blessings? How can you turn them into blessings? Count your blessings - one by one.