The Treehouse Illustrator (Etsy review)
I was scouring Etsy, just looking for cute things when I came across this sweet little thing: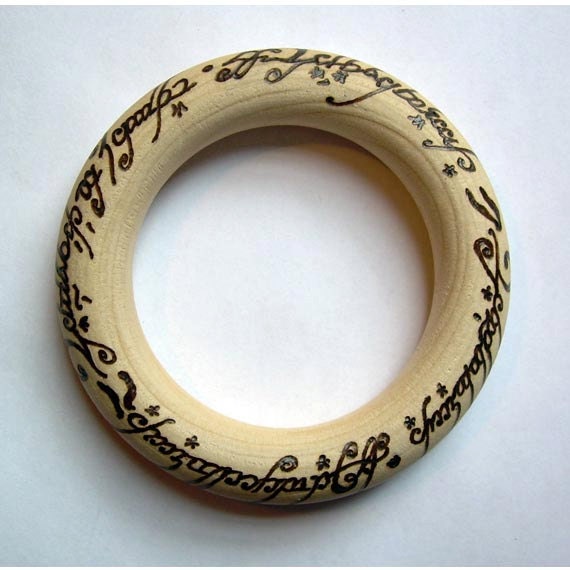 image from the Etsy shop
If you're not as nerdy as I am, this is Elvish written around the
baby teether
, like the ring from Lord of the Rings. So cool. Look at this craftsmanship! Shop owner, Kristin, agreed to let me review a teething ring, but I don't think my friends are quite as nerdy as I am. So I chose this one to review: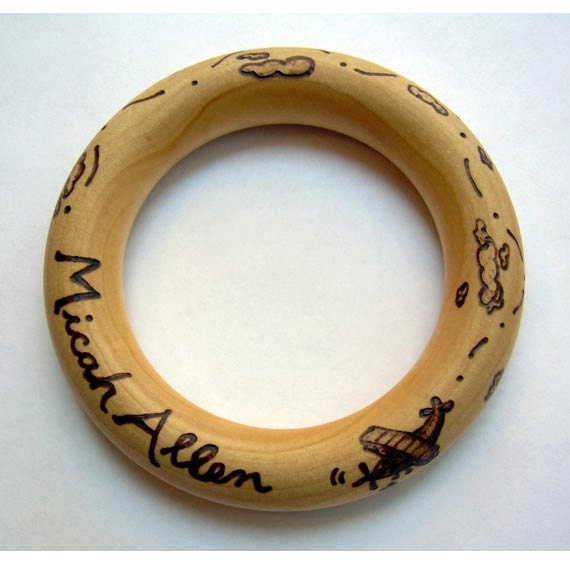 image from Etsy shop
Of course, the baby I was ordering it for didn't have a name yet (wasn't born yet), so there was a conundrum. Then it hit me, his older brother is just at the teething age (they aren't quite Irish twins, but not yet two years apart)! So I put their last name on this
airplane one
so it could be passed from brother to brother.
When the boys are done using it as a teether, their mom can tie a string on it and wa-la! They have a new ornament for Christmas!
I just love the craftsmanship it takes to make such small designs.
And great packaging. Everything came wrapped in green tissue paper tied with a twine string! Very sweet.
This ring is perfect because their dad flies single engine planes, too. So overall, I'm pleased with this product. As soon as the big brother (well, one of them, the other big brother is 4) got the teether, he knew right what it was and into his mouth it went. I'm pretty sure it was a hit!
Disclaimer: I received this item in order to write an honest review. Others may have varying opinions.