As anyone who knows us in real life can attest, my youngest son is obsessed with Superman. He wears a cape (not a Superman cape but he thinks it is) daily. He wants to wear his Superman shirts daily (we have 2). He loves his Superman pajama shirt. I (half) joke that our only arguments are about Superman. We are actually taking a break from the Man of Steel for a week, hoping to curb some of that enthusiasm to a less-obsessive role in our lives.
ANYWAY... I do love that he loves Superman. There are so many other things he could emulate that aren't so decent. Superman fights for truth and justice. He protects people. He is an all-around good guy.
I want my boys to imitate good people or good superheroes, so when I was decorating our home, my younger sister had given us some vinyl superhero decals. They are in our toy room and a few in the boys' bedroom. And yet, I know these won't last forever. My boys will outgrow this type of superhero love (or I think they will).
excuse the awful picture; vinyl is hard to capture. But see the decals? Those won't go to college with them!
I wanted a bit of decor to grow with them. So, of course, Etsy had just the right store: Entropy Trading Company.
Their tag line is "
your shopping destination for everything you never knew you always had to have!" Owners Lynsey and Caleb ("Momma" and "Poppa" to fur baby Bonnie) have the business-minds, crafty ideas, and Photoshop skills to make their Etsy shop a success.
I fell in love with this Superman Arithmetic poster: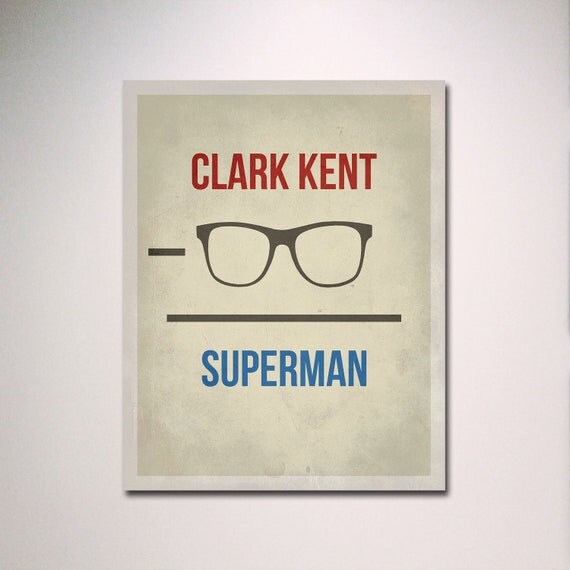 I knew immediately I wanted it in their bedroom. Moose thinks it's awesome (because he can read so he gets it). Once I read it to Squirt (who can't read!), he thought it was awesome too. He points to the words (and knows them by heart now!).
I love that it's right above our rocking chair where I held my babies; like a cross between babyhood and grownupdom.
So I love this print! I love that it's chic and still goes toward childhood a bit. I wanted to share some of their other posters that I just adore. If you love a movie but don't want to have posters plastered on your walls like a dorm room, this is the perfect alternative.
Harry Potter
There are more posters: Mad Men, Captain America, Clueless, Dumb & Dumber, Forrest Gump, Major League, The Help. I just emailed my sister and brother-in-law to find out their favorite movies because if they have their movies in a minimalist form, it would fit perfectly into their decor (if you guys happen upon this post...act surprised at Christmas, ok?).
What a great idea for someone you love. Not another something that takes up space but really a piece of art and pop culture.
Disclaimer: I received this print in order to write an honest review. You may or may not have the same success that I've had with the item and/or shop.