I wasn't sure about the premise of this book: an old lady takes a bus. Woohoo. However, despite my misconceptions, Harriet Beamer Takes the Bus took me by surprise.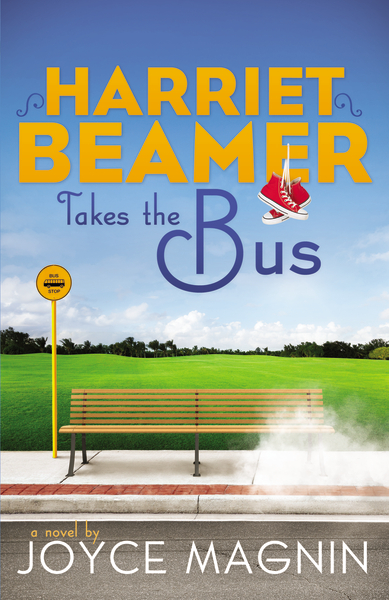 Harriet is a widow, for a few years, who has a tumble at Christmas. She takes a sucker's bet with her daughter-in-law: if her ankle is broken, she'll move in with Prudence and Henry, her son, in Calidofnia. If it's not broken, she can remain in her home in Philadelphia. The ankle was broken.
The house went for sale and Harriet decided to move her own way - by taking public transportation as much as possible across the country, collecting salt and pepper shakers along the way. She comes to realize that her trip wasn't crazy (well, maybe) but that she needed to do it to move on with her life. To show her that she still has a few wonderful years left; that she's not being put out to pasture.
The journey itself is awesome - something only from a novel. She rides buses, trains, a motorcycle, a helicopter. She passes through some places I've been, like the Royal Gorge in Colorado and St. Louis, Missouri, and some I've only seen in photos. Harriet becomes somewhat of a celebrity when she stops a "punk" from snatching an elderly lady's purse and her story captures the heart of most everyone she meets (except those darn hooligans that try to steal her credit card).
Harriet reminds me of my grandma...and then doesn't. Harriet at the beginning is much like my grandma; she has her routine that she sticks with. Doesn't stir up trouble or even get out of town much. But then Harriet finds bravery and strength in her trip that I think many senior citizens need. I plan to pass this book along to my grandma, in hopes that it encourages her to take a chance.
You can buy Harriet Beamer Takes the Bus from
Zondervan
for $14.99 for the soft cover or audio version or for $9.99 for the e-book version.
Disclaimer: I received this book in order to write an honest review. Others may or may not have the same experience(s) with the book and/or publisher that I've had.