1. Please look both ways when turning. Perhaps that seems simple, but you would be surprised how many people look the way they are turning only.
2. Don't just look for vehicles. Unless it's your plan to hit a pedestrian, please be on the look out for runners, walkers, bicyclists.
3. Use your blinker! It really would help me (and other drivers) to know which way you're turning or if you are turning at all.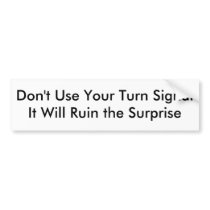 I'd still love for you to use your turn signal, this is just funny.
4. Don't stare. It's called running. It's been around in popularity since the 70s. And if you're from my town, you've seen me out before. Wave or smile!
5. This is a yield sign. Yield. And remember, pedestrians (aka runners and walkers...not sure about bicyclists but I would yield to them) have the right-of-way! So that means you may have to stop. But at least LOOK!
6. This is a stop sign. Stop (for yielding, see #5). While there's not really a certain amount of seconds you are to stop for, I was taught in driver's ed that 5 seconds gives you enough time to come to a COMPLETE stop (not a ROLLING stop!).
7. Get over if you can! If no one is coming in the opposite direction, get over. You don't need to run me over, promise. We won't get
this kind of publicity
, like Reese did.
Just because you're in a vehicle doesn't mean that you're invisible!! Driving a vehicle is truly a big responsibility and if you hit someone, there are awful repercussions for that.
Watch out and be careful.