Gray Matter by David Levy, MD (review)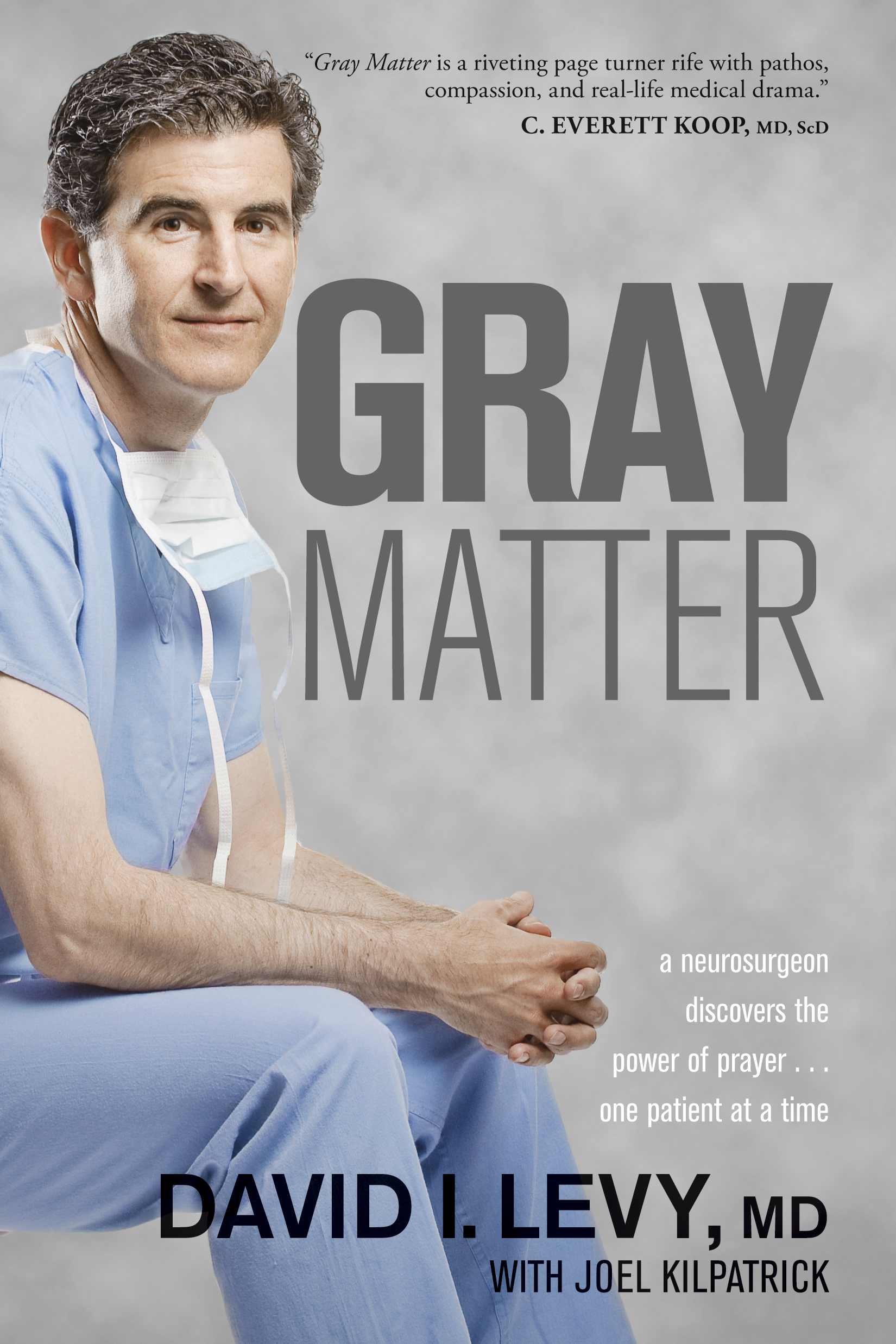 Gray Matter
by David Levy, MD is about a neurosurgeon who decides to pray with his patients. Seems simple enough - prayer, not a big deal, right? Well, not in the medical world. We must remember that doctors are scientists and (often, not always) scientists have a hard time wrapping their heads around the idea of God (let alone putting their trust in Him).
We have been blessed with Christian doctors for our sons and myself. Dr. B delivered both of my boys and gave me all of my prenatal, postpartum care, and did all well-baby check-ups, etc for my kids. My most memorable moments in the delivery rooms (after meeting my children) were the prayers said. When Moose was born, things weren't going so smoothly so Dr. B had us stop everything and had Big A pray. We started Squirt's delivery with a prayer. That's exactly what should happen in a delivery room - God is giving you a gift and we should ask for His help and thank Him for the blessing. And even our new doctor, Dr. T, is a Christian, so I feel super blessed to have medical professionals in our lives who know that they rely on a higher power.
But I realize that too often medicine and spirituality don't mix. Something that struck me in
Gray Matter
was that Dr. Levy often shared with his patients (especially those who had ailments that couldn't be identified with a diagnosis) that often bitterness, unforgiveness, and resentment lead to physical ailments. And often the letting go of anger and forgiving those who have hurt you can result in a "cure" (not all the time but some of the time). I was amazed at the results for his patients!
God doesn't answer all prayers - He sees the forest while we only see the trees. Too often this feels like He's forgotten us or mad at us, when in fact it's just all in His design. Dr. Levy focuses on moments like this, when a patient is paralyzed, when tragedies strike even when prayer is offered up. I enjoyed Dr. Levy's honesty in that he, too, questioned God and was angry. Then he realized that God is always good, no matter the outcome of surgeries.
What a blessing Dr. Levy has been to his patients and coworkers. What a gift from God that there are doctors, nurses, and other medical professionals who are willing to pray with patients, to see that there is a God who is bigger than they, and it's such a testimony to the awesome power of the Lord.
I'll be honest, sometimes there were parts in this book that were hard to get through. Although I recommend this book, some of the medical lingo gets too much for me, and sometimes it was just a drudge to get through. That sounds awful but I really do think that overall this is a book worth reading and it is well-written. I've just been reading too much fluffy material lately so this wasn't as fluffy (which is good).
Disclaimer: I received this book from Tyndale Publishers in order to write an honest review. Others may or may not have the same experience(s) with the publisher and/or book as I had.