Simple. Life used to be simple. High school was simple.
School. Work. Play. School. Work. Play.
(Not always in that order and definitely not in that priority)
My money didn't have (as many) bills to pay.
I could afford $100+ jeans and the newest fashions (sort of).
My bestie and I spent too many hours partying
with nothing better to do than drink.
I boy hopped in my latter years of secondary school.
Perhaps not on purpose but I had no sense of time it seemed.
And yet, in ways, my life is so much simpler now.
I don't have to worry about heart aches or breaks.
My kids and husband are always here for me.
My money goes straight to bills
so less temptation to spend on non-essentials.
My nights at home are remembered
and memorable.
I have no school or job
and yet, my life has much more purpose.
Simple times may seem simpler in retrospect,
but to live in the here and now, is priceless.
This post was brought to you by
Mama Kat
and her Writer's Workshop.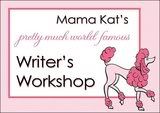 **oops I'm a day early but read any way and go to Mama Kat's tomorrow to link up**