"Run to Overcome"
is the new book by Meb Keflezighi. Don't know who that is? No worries, neither did I until I read this book! Meb is one of the best marathoners in America, in the world. This is "the inspiring story of an American champion's long-distance quest to achieve a big dream" (taken from the book cover).
Meb's story is not an usual Cinderella story: a family emigrated to America (via Italy) from
Eritrea
, a very small African nation. Eritrea was a war zone so his father, fearing for his family's safety, did all he could (even being separated from them for years!) to get them out, to a safe country. From there, Meb did all he could to succeed - in the classroom and outside of it. He pushed himself from never having ran a race to being a champion in the mile to (with a lot of hard work and training) winning the 2009 New York City Marathon. Sounds like the American Dream, right?
I love that this is not a running story. At least not JUST a running story. Meb's is a story of hard work and the successes that followed. His is a story of faith in God and following the path He has made for you. Meb's is a love story ending with 3 beautiful daughters with his beautiful wife. His story is nothing short of inspirational.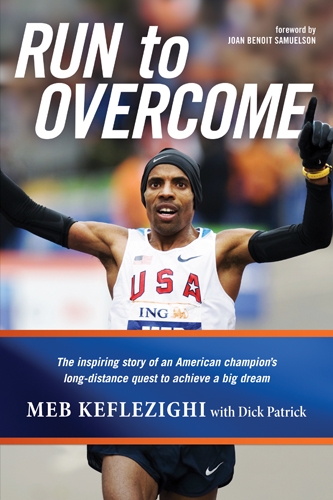 Before reading this book, I had no idea who Meb Keflezighi was (I still can't spell his name without looking). Now, I cannot wait to see how he finished in this year's
ING New York City Marathon
- on November 7!!! I will be waiting (wishing I were watching, darn no cable).
(click
here
to see an interview with Meb, this year's defending champion of the NYC marathon)
Please check out Meb's
book website
. There is a
contest
on
Run to Overcome
- they are giving away one signed book per day from Nov. 1, 2010 - March 31, 2011. There will be monthly grand prize winners that will receive a signed copy of Meb's book, other free Tyndale titles, as well as Sony and PowerBar products. Go here to enter or learn more!
Also don't forget to get your own copy of "Run to Overcome" - available at amazon.com and other major retailers (
$16.49 on Amazon
).
Good luck this weekend to Meb & all of the other ING New York City Marathon participants!