"Why, land is the only thing in the world worth workin' for, worth fightin' for, worth dyin' for, because it's the only thing that lasts." - Gerald O'Hara (
Gone with the Wind
)
Maybe it's the Irish in me. Or the mom in me. My biggest material desire is a house to call my own: not a rental but one that we have bought with hard-earned money. I've put aside this dream for a long time now, not seeing how we would afford a place of our own. It's hard to put a dream aside, it feels like a little piece of your heart is buried. So I will, for the time being, brush off the dust and tell you about my dream house.
--------------------------
Victorian style. If we're talking dreams, that is mine. Even when I play the
Game of Life
, I'm kind of disappointed when I don't get the Victorian house (even with it's $100,000 price tag). My aunt used to own a house built in this style, minus the widow's walk (no water nearby to pine away over). The woodwork, the staircases, the stain glass windows, the servants staircase, the creepy attic, big doors. I loved this house. Now, I'm sure it was not a true Victorian house; after all, she lived in Nebraska which came a bit after that time period. Nonetheless, I adore that style. It's beautiful and classic.
The door would open to a grand foyer with a presentable staircase (not spiral). Stepping in on the wood floors, you would notice the baby grand piano nearby (with my Moose playing Mozart like he was born to play it - haha). The living room would be off to the right. The tv is nestled into a big entertainment center (with lovely craftsmanship so it doesn't seem out of place). The couches and chairs are not La-z-boys but comfortable. This room would be our yellow room: black furniture with highlights of red to accent. The large picture we have of Chimney Rock will decorate one wall, along with family pictures.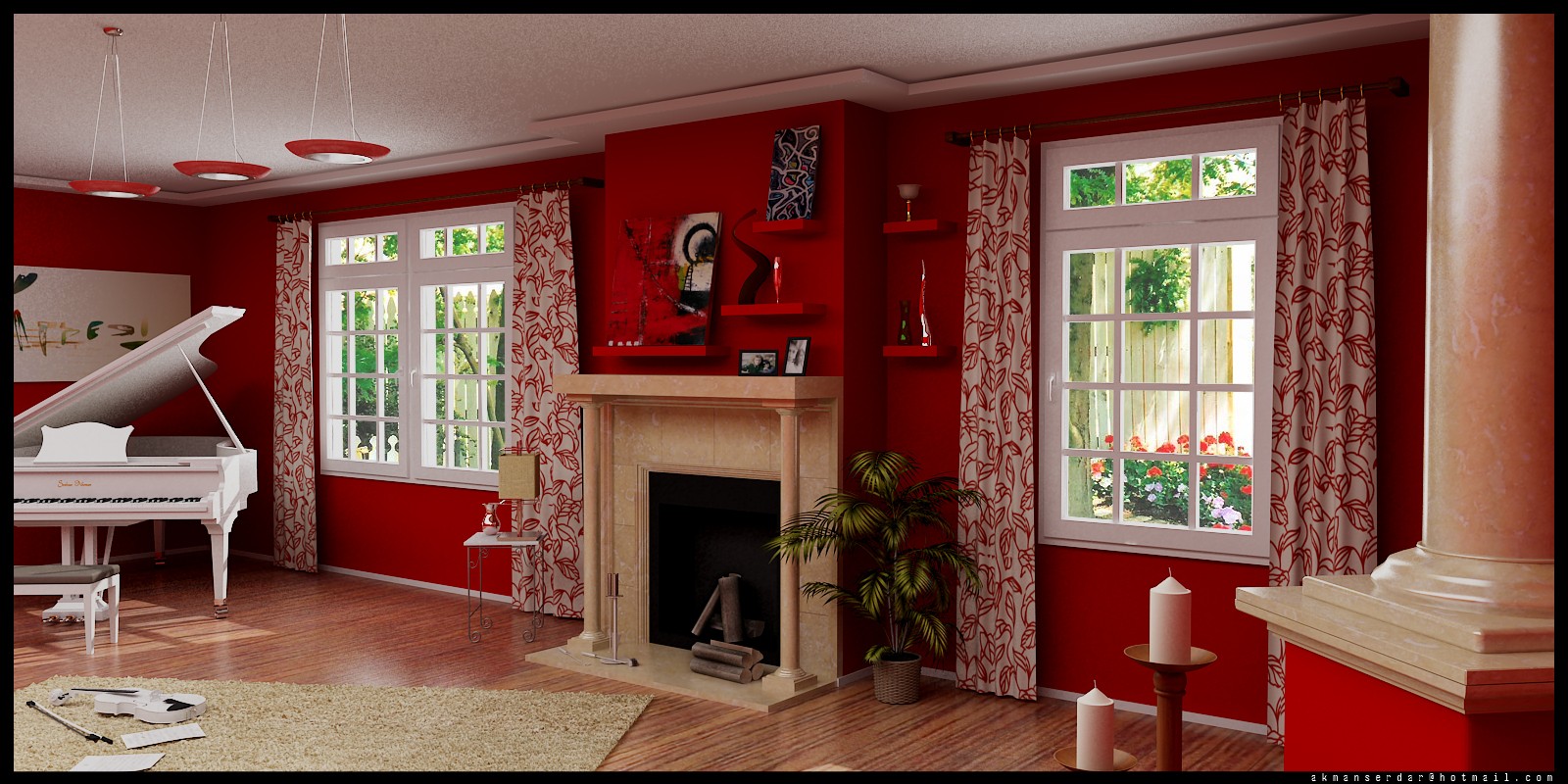 Living room: like this but black piano, pictures instead of art and a black fireplace and rug.
You move on to the dining room. It's made to be a formal dining room but it's our general place of eating. The table is large enough for a few sets of guests (very unlike the table we now own which seats merely us). A china hutch sits off to the side filled with crystal and china pieces I found at a thrift shop (or...will someday?). The walls in this room are painted a light blue - not periwinkle but more sky blue. The seats are covered with homemade seat covers (easily washable for the kids).
Dining room: different chairs with homemade covers (and a table with sections so it's not always so big)
Our kitchen is remodeled with stainless steel appliances (per my husband's request). The countertops are black granite, matching the black stain of the cupboards. The floor is tiled white and black in a checkerboard pattern (but with diamonds, not squares). The counter tops have a high area and a low area (to accommodate both heights in our family) and there is a step stool that fits under a cupboard so I can reach the tall shelves and cupboards. Our refrigerator is a side-by-side so the kids can still get out their own items without help, but I can easily reach everything I need to make meals.
Kitchen: but with two-tiered black granite counter tops (although the fridge is cool)
There is a guest room on this floor, too. There is a queen-sized bed (with a roll-away bed underneath) made up with a kelly green and cream quilt (that I will some day learn to make?). There's a dresser in case our guest(s) decide to stay for a week or so (or maybe we can take in someone who needs a place to live). The walls are wallpapered - cream with green stripes. A 3/4 bathroom is nearby, decorated with
Husker
decor (doesn't everyone have a football-themed bathroom?).
Guest room 1: more kelly green and with a quilt
Downstairs bathroom: Go Big Red...right?
Upstairs there are 4 bedrooms and a small office/study. Our bedroom has a master bathroom attached. The bathroom has a big tub to accommodate long legs (not mine, obviously) with a shower. There's a vanity in the corner opposite the sink (it's a big bathroom) so that I can get ready and not get in Big A's way of brushing his teeth or shaving. Or possibly just two sinks with a big counter (haven't thought that through obviously). It's just a white bathroom with black and silver circles painted in a modern-fashion on the walls.
I totally need this shower!
Add another sink and a shower...I could live with this.
Our bedroom has our big King-sized bed with two
night stands
(not plastic drawers serving as night stands) on each side. The walls are wallpapered gray with little scarlet designs on them. Black and white pictures of our family scour the wall, showing how we went from two to four (or more). We still only have one dresser but there's a walk-in closet fitted to accommodate my clothes (with built in dressers, hooks for purses and bras, and a built-in shoe holder). I have one of those giant oval-shaped full-length mirrors.
Master bedroom: sort of...but not. Red, not whatever-this-color-is. Pictures of us above the bed. Different wall design.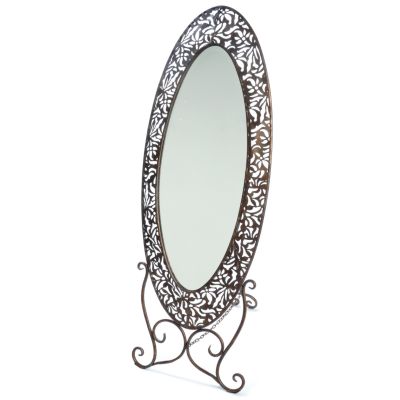 The hallway has pictures of the boys and us with our relatives. My great-grandma, my grandma, Big A's grandparents and parents, my parents and sisters, his brother and family. Our family tree will span our hallway. The boys' prints in their frames will go alongside newborn pictures of them and their baby hats in little shadow boxes. Our wedding picture will preside over our "family hall."
Our office is a royal blue color with slim horizontal stripes...sort of a
nautical
theme accented with red decor. There's a bookshelf built-in against one wall with books overflowing the shelves. There are hooks on the wall for the boys' backpacks. This room also serves as computer room. There's a big desk in the middle of the room (almost like two desks put together) so the boys can sit on opposite sides. The computer and printer sit off on a smaller desk in a corner. There are organizational bins and file cabinets for our homeschool supplies and stuff. The kids' artwork would be on the wall in matching frames, changing from time to time. I would also paint off an area with chalk board paint to use for school (or coloring) purposes.
Study/office: striped walls and bigger desk
The boys' bedrooms would be similar: red walls with 1 white wall. Their respective beds (toddler and crib) - until they grow to need a king-sized bed each! They would each have a
toy chest
with cherry wood. Their
dressers
would be painted black. Moose would have a guitar and Squirt would have the drum set. Squirt's rocking horse would have a place in his room while Moose's rocking chair would be at the head of his bed. Moose would have his Cars poster above his bed, Squirt would have his dinosaur poster above his. They would have pictures of both boys in collage frames. Then each would have a family picture, too. Their decor, of course, would change as they grow older. I have tried imagining what their rooms will be like as teenagers...it will be interesting to find out.
(I could be lying and this could totally be
Moose's dream bedroom
)
Moose's room: black dresser & chest, 2-3 red walls...bigger room. Maybe guitar on the wall?
Squirt's room: possibly change the name...add red walls and black crib/changing table
We would also have another guest bedroom upstairs. A small bedroom, but nice. More girly with a flowered quilt. After the boys are older, the glider and footrest will have a home in this room. It's painted cream like the other guest bedroom. But this one has accents in blue and purple. Pictures of wildflowers will accompany the wall.
Guest room 2: Add a girlie bedspread and wildflower paintings on the wall
I haven't given much through to the color of our house. My parents' house is blue, my in-laws' house is white. I think both are kind of boring but better than tan or purple. Maybe I would let Big A choose the outside color (as long as it wasn't Husker-themed....there's a bathroom for that). I do know he would want pillars on our dream home and I'd like a bay window.
I could even go without the gazebo, you know
Thanks for "touring" my dream house. I hope you found it as comfortable and homey as I do (will?). Head over to Mama Kat's for more Writer's Workshop.