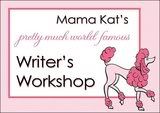 It is again time for Mama Kat's (pretty much world famous) Writer's Workshop!
The prompt I chose from this week's list:
2.) If you could do your wedding over, how would you do it?
(Inspired by this tweet "I am watching TLC's wedding shows and this makes me want to get married again. Same groom but a totally different ceremony." by Jen @BuriedWithKids)
Oh if I could do my wedding over again! Let me tell you that quite a bit would change. Let's just pretend that we wanted to renew our vows and throw a big bash again (oh for the money or desire to throw a big bash again)!
My bridesmaids would be: My older sister, my baby sister, my bestie Laura, and my friends Tessie & Mandy. My husband's groomsmen would be his brother, our friends Kurt and Cale, and his boss Seth. Yes, the sides would be uneven; I'm cool with that. My sisters would walk down with his brother.
Our ring bearers would be our boys, of course!
The color scheme would be fuschia and shamrock. I would let the girls choose the design of their dress to best suit their bodies, but I would want my sisters in green & the other three in pink. All dresses would have to be from the Alfred Angelo line in order to match the colors.
The boys would wear black tuxes and green vests. Big A who would keep his white tux with a pink vest. My boys would also wear little white tuxedos & pink vests (how cute would that be?!).
My flowers would be real this time around. I would have fuschia hibiscus with some sort of green flower to offset the colors. Maybe some bamboo tucked in there?
The wedding cake would be a topper cake, 1 sheet cake, cupcakes, and a groom's cake. We never had a groom's cake and I always kind of wish we would have. I would set the topper and cupcakes up like this:
But make it a white cake with pink hibiscus flowers and green stem-like decor.
And something like this for my groom:
Our reception would be held in a larger place. The food would be better (or at least cooked all the way through). I would cater this time!
There would probably be more changes, but those would be the major ones. We would probably not get married where we did either.
Anyway, sorry to end this abruptly but I have two sickies here. Squirt has been sick going on 3 days now: took him to the doctor yesterday; they said it's probably just viral (however, he's had blood in his BMs and they said they were unsure about that but no one told me to take the diaper - so word to the wise, if your kid is sick & you question the diaper, take it). Now Moose is sick too. He woke us up around 3:30 this morning throwing up...spit. He's done that twice and then thrown up stomach acid. I'm super excited for today, let me tell ya! Hope you're all feeling well.