I got a job! Yeah! I do have to take Moose to daycare....BUT I'm going to be there, too! That's right, I got a daycare position. At least a part-time one. Mornings on MWF, afternoons TTh. That works so well for me because MOPS and WIC are in the mornings of TTh so I don't have to reschedule or skip out.
I know some of you are thinking, "well good going worrying so much about getting a job." I know. I know, Mrs. Spiderlegs ;)
Anyway, I just wanted to share my good news! My God news.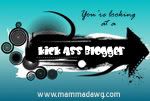 No, I didn't get an award; I'm rewarding today!
I think these lovely ladies are kick butt bloggers!
-
Mrs.
Spiderlegs
: she always gives it to me straight, even from 1200 miles away.
-
Mrs. R
: her comments always light up my day.
-
The A-team Mom
: she is so giving of her mommy wisdom.
-
Mama Kat
: her blog makes me laugh daily and she's so sweet always!
-
Candid Carrie
: I love having Friday's Foto Finish Fiesta (and she's so adorable).
Head over here to
Mr. Linky
& pick up your award! Congrats & thanks to
mammadawg
for sponsoring this wonderful award.